History of Formula Vee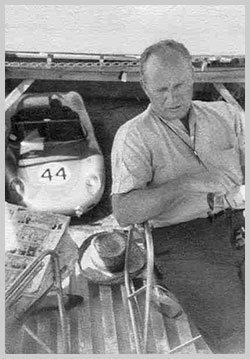 VW dealer and motorsport enthusiast Hubert Brundage in 1959 was trying his hand at motor racing with VW based specials in Florida. He found it expensive ultimately unsuccessful but he still believed it was possible to be competitive using VW parts so that the average man-in-the-street could maintain and afford it. While on a business trip to Italy he visited race car builder Enrico Nardi. Brundage had been impressed by the quality and commissioned them to produce a Beetle-based single-seater.
By 1962 there were eight Vees racing with cars of similar power; famously four got a run in a Sports Car Club of America (SCCA) touring car race(!) in Savannah and three of them finished 1-2-3.
SCCA Official George Smith and garage owner Bill Duckworth took the concept a stage further by producing the Beetle-based formula racing cars (Formcar for short) in volume. The first other manufacturer to come in was Eugene Beach who produced customer cars in quantity and a Formula Vee series was started by the SCCA in 1963.
At this point Porsche AG got interested in this (after all they were effectively the competition arm of VW) and competition boss Huschke von Hanstein ordered 10 Formcars and Beachs. The Vee concept was therefore explored in Germany and some drivers we recognise today started their careers: Jochen Mass, Dieter Quester, Gerhard Mitter and Marc Surer. Volkswagen themselves saw this as a marketable concept and started to co-ordinate the launch of Formula Vee worldwide.
In the UK the launch included a 12 round Formula Vee championship organised by the British Automobile Racing Club (BARC) which preceded Brands Hatch's Formula Ford by two weeks in 1967! At the time most were Beachs (or Express cars which were Beachs modified by VW GB) and there was such a thing as a works team). The first race at Silverstone was won by Jenny Nadin although well-known journalist Nick Brittan led for all but the last lap till he spun.
The UK series was managed by The Formula Vee Association under the wing of VW GB Ltd. The regulations followed the international rulebook, the cars having the link pin axle and 1200cc engine. Major racing car manufacturers were primarily interested in Formula Ford which was all the rage so Vee regulations were changed to modernise the look of the cars in 1973 allowing 1300 engine, disk front brakes, torsion bar front suspension and rack & pinion steering.
VW moved to water-cooled cars and introducing the Scirocco Cup to promote their sporting image. Formula Ford was the route to motor racing stardom and as a result Formula Vee grids dwindled in the mid 1970s to no more than about half a dozen and the formula gained a reputation having only few entries of slow, oil-spilling unreliable ugly racing cars. VW themselves ceased its support and the formula was demoted effectively to club racing.
London Irishman Tim Flynn saw a way forward. He negotiated with the 750 Motor Club in 1979 for Formula Vee to be taken under its wing. Membership secretary Dave Bradley saw it as an entry-level single-seater low-cost club racing series dovetailing in perfectly with their other formulae: Formula 750, Formula 1300 and Formula Four.
There was still a shortage of available chasses until Vee (and Austin Seven performance) engine guru Stuart Rolt who had produced the Scarab 1 – a space frame car based on the Austro – designed and built the Scarab 2, a steel monocoque design based on dimensions of the Van Diemen RF78 and using other proprietary bodywork. Most significantly it was available on the market as a kit and was designed as a customer car. This re-packaged formula brought the class to the attention of lots of potential club racers. For once in a long time they could actually buy a complete new car. A 15 round national championship was formed and sponsored in turn by several aftermarket Beetle suppliers. The series blossomed, often with the need for a qualifying race each round.
In the 1980s new chasses came on the scene from the US – the Predator and Citation conversions called Spyders. The cockpits of these "lay-down" cars in the tradition of the US oval slip-streamers needed to be widened to conform to UK rules. These were followed by customer cars from Ireland including the Sheane and Leastone.
Formula Vee UK celebrated its 50th anniversary at Cadwell Park in 2017 and continues to have one of the strongest grids with the 750 Motor Club. With new chassis' being produced by AHS Motorsport (Dominator), BEARS Motorsport (GAC), SG Race Engineering (Storm) and independent chassis builds, the future of Formula Vee is in good hands. Not long until the 60th anniversary!!